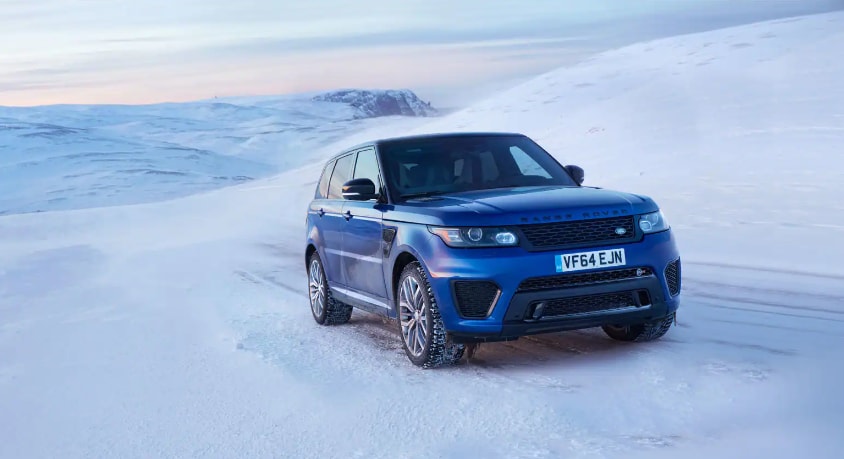 Land Rover is known for its performance throughout various conditions, and snow is no exception. If you're looking for the Land Rover that performs the best in snow, you simply cannot go wrong with any.
All new Land Rover models are available with Traction Control, which diverts drive power to those wheels with the most traction - something essential for driving through slippery and slushy roads.
Snow-Ready Technology in Land Rover Models
If you are looking for additional snow-ready tech in your vehicle, select models like the Range Rover Sport have features specifically catered to snow and other driving conditions. Terrain Response features seven terrain modes to choose from, adapting the response of your vehicle's engine, gearbox, differentials and chassis systems accordingly.
Land Rover is also focused on innovating, with the new Range Rover Sport also having the world's first Adaptive Off-Road Cruise Control. This technology senses the terrain and automatically controls vehicle speed for optimum control, allowing you to maintain a steady speed through mud, wet grass, ice, snow and dirt roads. 
All Wheel Steering offers staggering maneuverability by delivering high-speed stability and enhanced low-speed agility, with the increased grip allowing for faster acceleration and increased confidence when cornering. 
Even with all of the snow-capable technologies Land Rover offers, it is important to follow the basics such as checking your tires, maintaining visibility before driving and avoiding dangerous areas.
Shop For a New Land Rover in Huntington, NY
Are you looking for a brand new Land Rover to get you through slippery and snowy conditions? Schedule a test drive with us at our Huntington dealership. If you have any questions about any of the available vehicles in our new Land Rover inventory, feel free to contact us at Land Rover Huntington. We look forward to seeing you at our dealership soon!