A Land Rover Head-to-Head with Range Rover Sport and Evoque: Models of Utility as Diverse as Your Terrain
When you're looking for a vehicle merely for the jobsite or to go full off-road adventuring, you need look no farther than the Land Rover moniker and Range Rover line of SUVs. And that's not just for the range of advanced safety tech and convenience amenities ensconced therein. From the power put out by Range Rover Sport and Evoque alike, with respectable fuel economy to go that extra mile to boot, to the premium build size and interior space offered at nigh standard value, each trim gets behind road trips out from Long Island to New York City and beyond with features to impress.
No Matter in Which Sporty Trim, Sport and Evoque Showcase an Efficient Power-Packing Design to Fuel Your Adventures
It's time to hit the road, and the array of engine options, complete with 8-speed auto transmissions, under the hood of both Range Rover Sport and Evoque are models of hard charging. In Range Rover Sport, you can go the route of a 340-horsepower, 3.0-liter Si6 6-cylinger gas engine, with terrain-commanding four-wheel drive and 332 pound-feet of traction-controlling torque, or you can equip a 254-horsepower, 3.0-liter Td6 diesel engine that shells out 443 pound-feet of torque. The former beast gets a respectable 17 mpg city/23 mpg highway/19 mpg combined fuel economy, but you can get a leg up on a few extra miles if you choose instead to power your roadster with Land Rover's diesel engine option, showing off its 22 mpg city/28 mpg highway/25 mpg combined mileage.

Range Rover Sport
And there are a few step-ups to indulge the pro hauler or performance driver inside you. Sport's HSE Dynamic trim's 3.0-liter Si6 6-cylinger gas engine, atop a four-wheel drivetrain, offers a slight edge at 380 horsepower, and with the same specs as the aforementioned Si6, meaning more than a little extra push. Supercharged and Autobiography trims reach for the stars with a 5.0L V8 gas engine to top the Sport line with a crushing 510 horsepower and serious pull of 461 pound-feet of torque, all at comparable 14 mpg city/19 mpg highway/16 mpg combined fuel economy. And Sport's SVR iteration veritably captures them, its supercharged 5.0L V8 paying for its nonetheless close 13 mpg city/19 mpg highway/15 mpg combined fuel economy with extra horsepower and torque tacked on -- 550 and 502 pound-feet respectively, to be exact.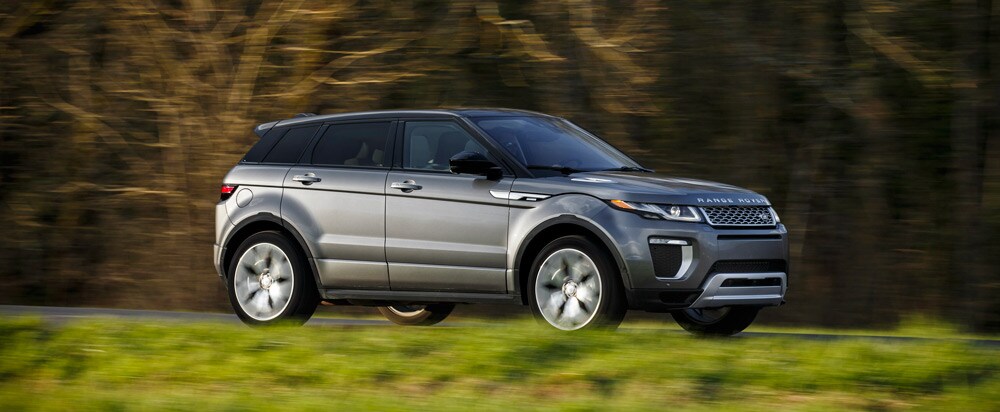 Range Rover Evoque
Looking for a Range Rover built for distance rather than heft? Range Rover Evoque may just be your speed demon. Its SE, SE Premium, HSE, HSE Dynamic and Autobiography five-door, and SE Premium coupe surely pack it up without packing it in. Their comprehensive offering of a 4-cylinder turbocharged gas engine, road-warrior four-wheel drive, 240 horsepower and 250 pound-feet of torque to compete with Range Rover Sport top off with a 9-speed auto transmission to make a variety of excursions. Evoque's five-door and coupe trims get up and go, too, with 21 mpg in the city, 30 mpg on the highway and 24 mpg combined fuel efficiency.
And When it Comes to Optimizing Value, Size Matters
What are we to make of such power talk? As comparisons go, it's all about getting the most out of your investment. Range Rover Sport, weighing in at a base price of as little as $65,650, and up to $111,350 in the top-of-the-line SVR trim, is a showcase of doing just that. Its sprawling 115-inch wheelbase delivers dependable balance and precision steering even as one fords high water with ease thanks to both the SUV's 8.4-inch axle clearance (10.9 inches in off-road height) and its enviable 33.5-inch wading depth. Sport's interior proudly displays a spacious max loadspace height of 30.2 inches, and couple it with a 41.5-to-73.7-inch length and a cavernous 27.7-to-62.2-cubic-foot cargo volume, each achievable with rear seats folded, and you've got a trip carrying plenty of road swag veritably made.
You can take the economy tack with Range Rover Evoque, its base MSRP of $41,800 reaching up to a competitive $57,700 in the HSE Dynamic iteration, and still get the blood-pumping feel of the all-terrain with the perks of drop-top wind in your hair. Evoque's wheelbase remains a hair's breadth from Sport, at 104.7 inches, so handling's still loads of fun, and one need not worry about a bit of water in the way thanks to Evoque's 19.6-inch ground and 8.4-to-10-inch axle clearances. One can enjoy a little extra height inside its cabin -- 34.3 inches -- and likewise, Evoque's rear seats fold to create a spacious 31.3-to-62.2-inch load area with a nonetheless roomy 20.3 to 51 cubic feet of cargo volume. You can even go compact for urban driving with the SE Premium 2-door, featuring a 33.1-inch max interior loadspace height and cargo volume of 19.4 up to 47.6 cubic feet with the coupe's rear seats down.
Land Rover Huntington Can Introduce You to the Range Rover Model and Trim of Your Dreams
You've got plenty of Range Rover options from which to choose to suit your lifestyle, and whether you're looking to acquire financing or a lease with ease, Land Rover Huntington is here to help. Our 1249 East Jericho Turnpike, Suite B professionals can help you find the Range Rover Sport or Evoque to suit your travel needs with flexible terms that keep your budget firmly in mind. Take the scenic drive from New York City or Long Island to see us here in Huntington, NY, and we'll be happy to discuss your preferences, or even let you just step behind the wheel for a few driving thrills. We look forward to meeting you!