We Ask Long Island Drivers to Choose Between the Range Rover Evoque and Audi Q5
Are you searching for a high-end crossover that's luxurious enough for daily driving and rugged enough for your next adventure? If that's the case, the Range Rover Evoque certainly fits the bill for Long Island drivers like you!
The Range Rover Evoque is every inch a luxury crossover with its irresistible appearance, opulent interior cabin and endless variety of features and amenities. However, the Evoque also displays world class performance whether you're highway cruising or tackling off-road terrain. It's for those reasons and more that the Evoque is a better all-round crossover than rivals like the Audi Q5.
Unrivaled Safety Standards
Luxurious to the core, the Range Rover Evoque always makes safety its paramount concern when you're on the road. The Evoque watches your back, front and side with innovative safety features like blind spot monitoring, parallel park assist and lane departure warning. On the other hand, the Q5 is one of the only luxury CUVs that's not offered with lane departure warning.
The Evoque also provides an extra level of protection with auto-leveling headlights, a night vision camera, traffic sign recognition and driver drowsiness monitoring. Similar features aren't offered in the Audi Q5, which means the Evoque is your choice if safety is a top priority!
Power, Performance and Off-Road Capability
The Evoque proves itself to be an equally capable performer both on and off-road. With its compact dimensions, the Evoque has no trouble navigating city streets, weaving through traffic and fitting into tight parking spaces. The Q5's added bulk and length makes city driving a much more difficult task.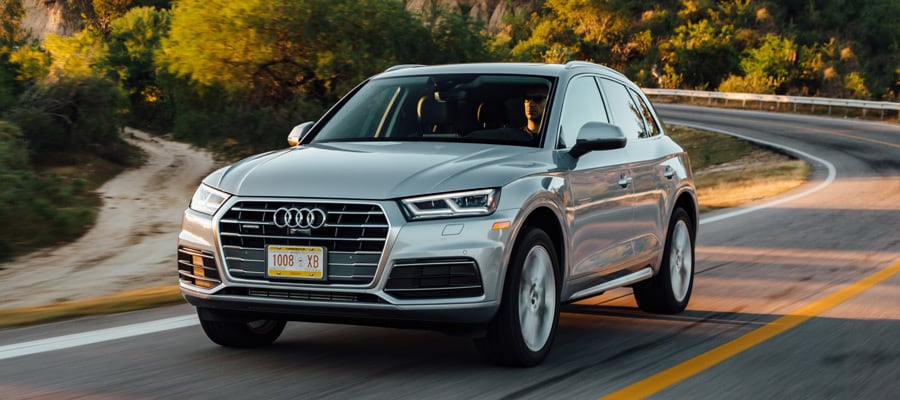 You'll find that the Evoque bests the Audi Q5 in terms of power and fuel efficiency. With a turbocharged four-cylinder engine, the Evoque produces a thrilling 240-horsepower compared to just 220 horsepower with a comparable engine in the Q5. With a nine-speed automatic transmission, the turbocharged Evoque also provides better fuel economy ratings than the Q5.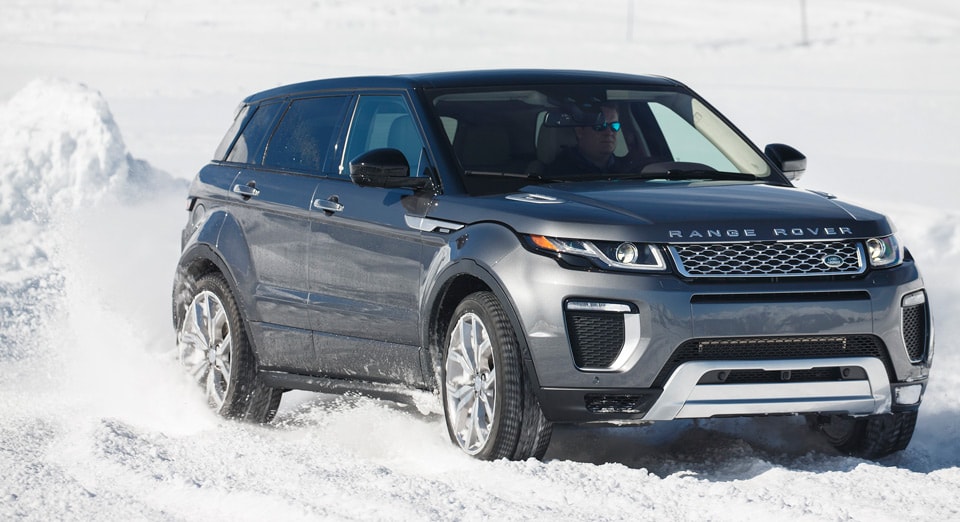 World class off-road capability is signature trait of Range Rover SUVs and the Evoque is no exceptional to the rule. With standard four-wheel drive, the Evoque displays confident handling and control when you're climbing steep hills, driving in a snow storm or anything in-between. The Evoque also comes equipped with Hill Decent Control and a Terrain Response system that lets you toggle between drive settings like grass, gravel and snow for optimized performance on all road. You won't find similar off-road capability in the Audi Q5!
Luxurious Travel Awaits
No matter what lies ahead, the Evoque assures a luxurious driving experience that's unrivaled among cars in its class. The Evqoue pampers you with its distinctive design, exceptionally comfortable materials and range of innovative tech features for your driving pleasure. It's clear that the Evoque's luxurious cabin is truly one of-a-kind.
And, if you crave tech features and amenities, then the Evoque is your best bet. You'll enjoy standard features like a rearview camera, rear parking sensors, keyless entry, remote engine starter and much more. None of these thoughtful convenience features are standard in the Audi Q5.
Based on those facts, there's no debating that the Evoque is the preferred crossover for drivers from Long Island to New York City. Experience the Evoque when you visit Land Rover Huntington in Huntington, NY to get behind the wheel today!
Highlights of Range Evoque vs. Audi Q5
Evoque is available with driver assistance options like lane departure warning, a night vision camera and parallel park assist. Similar features aren't available in the Q5.
Evoque provides world class off-road capability with four-wheel drive, hill descent control and a Terrain Response system. None of these features are found in the Q5.
Evoque provides better fuel economy ratings than the Q5 (29/21 mph hwy/city vs. 27/20).