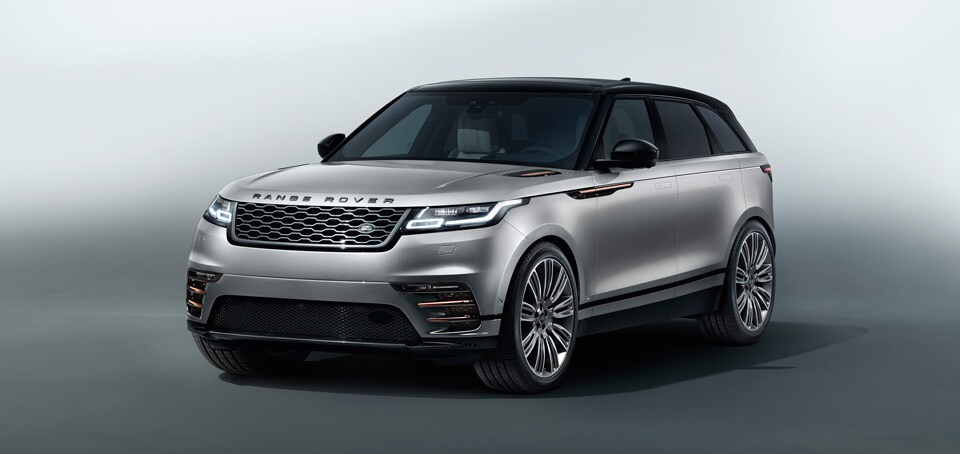 The story of Range Rover begins way back in 1969, with the prototypes destined for the 1970 release of what would become the original Land Rover Range Rover. With these 26 pre-production Range Rover models, the modern luxury SUV sprang to life. But with the prospect of such serious broken ground, Land Rover knew it would have to keep its novelty a secret. And so it did, with a code word derived from the Latin; "velare," meaning to veil or cover, became Velar, and the term went to the back of the minds of Land Rover's development experts. Or did it …?
With Land Rover having decided fill its Range Rover Evoque and Range Rover Sport middle-ground, opportunities for design innovation having shown themselves plentiful, the automaker is soon to introduce a new use for its term, in the form of 2018 Land Rover Range Rover Velar, in Velar, Velar S, Velar SE, Velar R-Dynamic SE, Velar R-Dynamic HSE, Velar First Edition trims. And if advance evidence of its feature-laden build is any indication, the offering ought to veritably upend the SUV segment.
Driveway to Highway and Off the Beaten Path, 2018 Range Rover Velar is Set to Charge In
Land Rover's eponymous midsize SUV hits all manner of ground running, its progressive lightweight-aluminum architecture, crowned by a floating roof giving way to waistline continuity, showcasing under-hood advanced and efficient V6 and 4-cylinder Ingenium engine options as well as a responsive 8-speed automatic transmission. Driver input-reactive Adaptive Dynamics and fully independent coil-sprung suspension systems make the drive-time experience smooth and balanced. Equip Velar with an optional electronic air suspension, and it receives diagonal wheel cross-linking and electronic differential capability, helping the SUV make the most of up to a 9.9-inch ground clearance for all-terrain poise with the commanding traction afforded by help from Torque Vectoring. You can even lower the chassis up to 1.6 inches thanks to optional Automatic Access Height adjustment, so ingress and egress is a snap.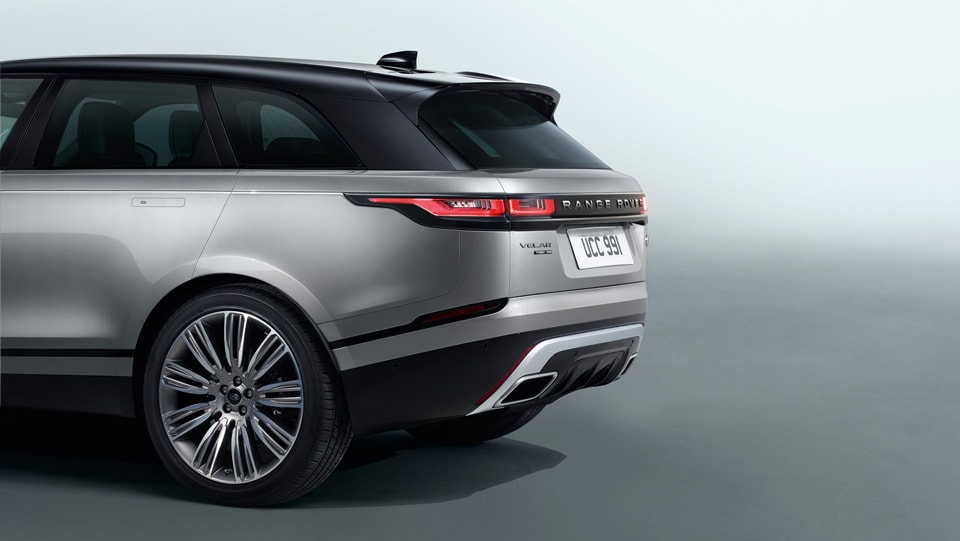 On or off road, intelligent, permanent Land Rover Four Wheel Drive (4WD) and Terrain Response systems help Velar tack into diverse terrain and weather with several operating modes, and the SUV's Terrain Response ® 2 system option can automatically detect changes in the former, adapting comprehensively. And these look to help Velar make quick work of fording water up to 25.5 inches, its optional Wade Sensing keeping you apprised of reaching max depth. So take up to 550 pounds in tow and hit the road. An optional electronically deployable rear-bumper tow bar even delivers ease of fitting for your trailer.
Head Out in Style and Comfort in Velar's Luxurious, Amenity-Replete Interior
Inside 2018 Range Rover Velar, you'll find drive relaxation as only a Sports Command Driving Position, individual sliding armrests, configurable mood lighting, a quick-view Head-Up Display and two 10" high-definition touchscreens can deliver. Velar even offers a step up to an optional 12.3" high-definition Interactive Driver Display, showcasing myriad metrics to make the drive an informative one, from driver-assist, navigation and phone specs to an entertainment readout. And you can choose decked-out seating in Luxtec, Suedecloth, perforated grained leather, a combination of the latter two, in perforated Windsor leather and top-notch premium textile. A two-zone climate control system provides cabin customization possibilities, alongside the option of climate-controlled front memory seats and heated reclining rear seats for the apex of comfort.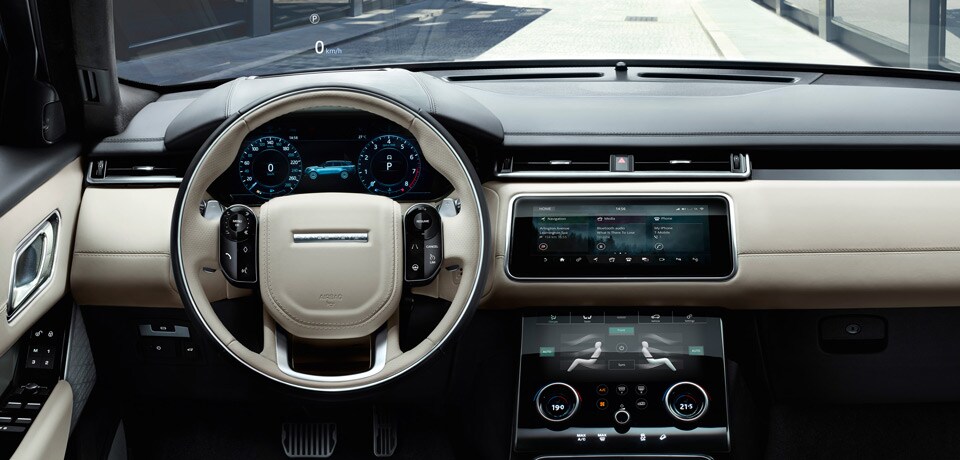 And where would Velar be without a range of convenience tech? A Touch Pro Duo interactive dual touchscreen system comes standard, along with steering wheel-located controls, and your passengers can enjoy an entertainment world apart not only with the immersive Land Rover Sound System or three Meridian sound system options, but also with the optional headrest-installed dual 8-inch-screen entertainment system, featuring USB 3.0 ports and HDMI ports to accommodate the contemporary mobile lifestyle.
And with a Gamut of Velar Safety Features, Land Rover Delivers Peace of Mind Through the Thick of It
From Electronic Traction Control to Electronic Brake-force Distribution, Emergency Brake Assist and beyond, to autonomous emergency braking, lane departure warning, speed-limiting cruise control and more, 2018 Range Rover Velar tows the line on the security you've come to expect from Land Rover.
Velar makes it easy to stop at optimal distance from other vehicles and obstacles with axle-varying brake force, and with welcome brake pressure boost through its reliable ABS pump as needed. And if the SUV detects a potential collision between 3 and 50 mph in city settings or 3 and 37 mph in pedestrian mode, it'll deliver advance warning so you can take action, applying brakes in the event that you don't. Should you unintentionally drift lanes, Velar also informs you with visual and tactile steering wheel-based alerts, and when you've arrived at your venue and it's time to park, a Rear Parking Aid simplifies reversing into tight spaces thanks to automatically triggering rear-bumper sensors, as well as feedback from Velar's touchscreen and audio.
Whether You're From Long Island or New York City, Let Land Rover Huntington Introduce You to the Range Rover Experience
In advance of the big Range Rover Velar appearance, a test drive in a brand-new Land Rover Range Rover, in a litany of trims, is right around the corner from New York or Long Island, here at our 1249 East Jericho Turnpike, Suite B showroom in Huntington, NY. And our Range Rover expert staff can make it happen. Stop by and see us today, and we'll be delighted to put you behind the wheel.